How to achieve financial freedom through the stock market
*Updated on February 2018, this post had a mistake regarding the S$P500 returns…
Financial freedom has different definitions for everyone, it might mean having $1,000,000 in the bank, knowing that you have enough money saved in the bank for any emergency, being able to travel the world for a month each year or simply not having to work to make a living and just work on you passion every day.
Whatever your definition of financial freedom is, I'm a firm believer that investing in the stock market is a fantastic way to achieve that freedom. I'm also believe that anyone can be successful investor and its not only for the 1% rich or for people with degrees and super high IQs.
Stock Market Average Return
The average annual return for the US Stock Market for the past 112 years is about 8%, this  doesn't mean that you will get an 8% return every year if you are invested in the stock market. What this actually means is that no matter what, in the long run, the stock market will always go up, you can bet that there will be years where returns will be negative, but if you are investing for the long run you will make money. Lets put this in real numbers, If you were born in 1985 and you parents decided to open a stock portfolio for you and the only thing they had was a fund that tracks the performance of the S&P 500 you will probably have a LOT of money right now, how much? Lets assume the following:
Your parents opened an account on your name with just $1000 on January 1985
They added $100 each month
They re-invested the dividends (super important)
They check their balance on September 2017
The total contribution that your parents did to the account are a total of $40,200, remember that they started with $1000 and they added only $100 each month. This is a span of 32 years of investing where the only thing they cared about was just contributing money to the account, they didn't care if the stock market was crashing or not, they knew what their goal was, in example "Pay for your education" or "Saving money for your wedding", you name the goal, but they never deviated from it. So, how much that account would have by September 2017?
$243,401.75!!!
Just imaging, they only added $40,200 and in return they received $203,201.75 extra from their investment! This is incredible!!!. Keep in mind that I'm not making up this numbers, you can backtest this results on this website
This return didn't come without some scary rides, there was the internet bubble from 2000 and the housing market from 2008 crashes that took a huge toll on pretty much everyone's return which leads me to the following
More on Investing with only $1000 can be found here:
Time is your friend
Don't expect to get rich in a day in the stock market, aim for slow and steady while you are learning and then develop your own strategies to improve your overall returns. Time in the market is more important that timing the market,  no one knows if the stock market its going to crash tomorrow (bear market, correction, etc.) and you will only lose money if you sell your stocks when they are low, instead, you can wait a year or two to fully recover your money and continue growing it! Below is a graph that shows the portfolio value ($) since 1985 and how it perform during those stock market crashes
As you can see, there were 2 major decline on the portfolio starting on 2000 and 2008 BUT if you have a LONG time frame in your goal, then most likely you will recover your money and make more! Instead, by being scared of the stock market (like I was for the longest time) its preventing you from reaching your financial goals.
Savings account returns
There are people that believe that the safest investment you can do is to put your savings on a savings accounts, but what if I told you that you are actually losing money?.
You don't need to do any fancy calculation to figure this out. The average return (yield) of a savings account in the US is 0.06% (source) and the last 13 years average inflation rate is 2.03% (source), so you are actually making -1.97% yearly on your savings accounts…. Annnnd that's where I drop the mic, BOOM!
So much for a safe investment right?!?
Don't get me wrong, there is a purpose for a savings account, I do have a savings account and I use it as an emergency fund that I can access immediately if anything happens but I will never consider it as a financial instrument to grow my money EVER and neither should you!
Spicing up your stock market returns
If you don't find that the average return of the S&P 500 is good enough for you and you want to improve your returns, you can add some specific stocks to your portfolio, and example of this would be adding a growth stock like Amazon or Google. By doing this you are dramatically increasing your returns as long as you are sticking to your goals and strategy. Below there is a comparison of:
Portfolio 1: 100% S&P 500 Portfolio
Portfolio 2: 90% S&P 500 and 10% Amazon
Portfolio 3: 80% S&P 500, 10% Amazon and 10% Google
We are assuming the following:
All Portfolios started on January 2005
Initial deposit of $1000 and monthly of $100
Yearly re-balancing of portfolio to keep the percentages the same
Re-investing dividends
Overall we invested from January 2005 to December 2017 a total of $15,400, and we end up getting twice or money in return!
Incredible eh? And just by adding a couple of stocks to your portfolio you can go from $36,657 to $48,920, that's $12,263 more from your basic S&P 500 portfolio (source) or 3 times your money. Don't get me wrong, when you start doing stock picking it will come with an increase of risk on your portfolio, but as you can see, increasing risk in a controlled way can lead you to bigger returns. Low Risk – Low Return, Higher Risk – Higher Potential Returns, and only YOU (not me, or a friend or a "financial adviser") can decide how much risk you are willing to take!
Having a clear goal and time frame is the most critical thing when investing on anything, a good rule of thumb is to only invest money that you will not need in the next 5 to 10 years. The reason for this is that no one knows when the stock market will crash again and only time and a clear strategy can help you minimize your risk.
You can learn more about stocks and ETFs on the following posts:
Stock Market 101 by The Investing Loon
Investing like a Pro: ETF vs Stock
How to invest in the stock market for first time investors
Final thoughts
Investing in the stock market is an excellent way to achieve your financial goals, everyone needs to start somewhere and even with as little as $1000 account and contributing monthly to this account can exponentially increase your returns, don't get discouraged if you can't afford to save $100 each month, contributing $50 a month is better than $0! Doing this, re-balancing your portfolio each year to adjust it to your goals and re-investing the dividends you earn will create a snowball effect when initially it seams that you are having small returns, but in the long run they will get bigger and bigger and bigger!
This is exactly what excites me the most about Investing in the Stock Market, the fact that you don't need to have tons of money, High IQ or a University degree to invest and that you simply need to know some basics, have a clear strategy and a goal in mind and stick to it. All those news channels make it seem that investing is a rocket science, but its not, and not even then can predict what will happen to any stock!
If you are ready to start investing, your first step is to open a discount broker account online in order to start buying/selling stocks, if you are based in Canada, I recommend Questrade which has low fees and will let you buy ETF's for free! If you register through this link  or use my referral code 345608712407719 you will receive the following rewards depending on your initial deposit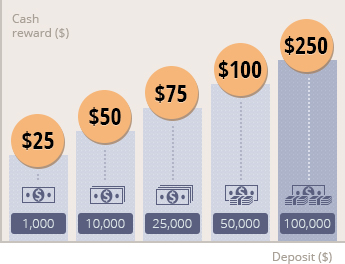 Please keep in mind that if you register using my referral code I will receive a small bonus from Questrade at no cost to you, win-win situation here 🙂
If you are located outside Canada, you can read the following post to compare brokers:
If you have any questions or just want to say "Thank you Derek for this information" feel free to leave a comment below, I enjoy reading every comment!